Philosophy

Gallery
Designs
Mounting
Dealers
Shop
e/g

General Terms
& Conditions
Sitemap
Imprint

Art on Wheels

Wolfgang Temmel, a wheelchair user since he was nineteen. And Wolfgang Temmel, the artist (check out www.temmel.org). Two dimensions come together to create art on wheels - TEWO Rollercaps.

Temmel, the practical man who knows literally to his fingertips how a top-quality wheelchair accessory has to be and feel.

Temmel, the sportsman who has the facts and the experience from doing extreme sports in a wheelchair. He knows what effective spoke guards are all about.

Temmel, the artist who probes life's dimensions and is energized by aesthetics. Art on wheels - designed by master hand for everyday life. Worlds away from crude imitations.

Only TEWO Rollercaps are art on wheels.

They are the originals.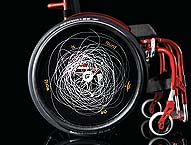 TEWO in use

Uncompromising Quality

Top-notch Materials.

TEWO Rollercaps are made of high-quality, clear polycarbonate - the same material which the automobile industry uses for extremely durable car parts such as spoilers. The material is 1.5 mm thick, lightweight, scratch- and impact-resistant - qualities which TEWO Rollercaps retain for years (other lower quality plastics gradually become brittle and change when exposed to sunlight).

Flawless Workmanship

TEWO Rollercaps are produced by a leading European manufacturer of high-grade, deep drawn plastics in compliance with Wolfgang Temmel's exacting standards.
The designs are screened on the backs of the shields using a complicated printing process that protects them optimally and enhances their effect. The edges of TEWO Rollercaps have been deliberately rounded for your fingers - one of the many practical features making TEWO Rollercaps different from other spoke guards.

TEWO Rollercaps are subject to rigorous quality controls - vouched for by Wolfgang Temmel - and delivered to you individually packed.